The Doctor
Dr. Rusty L. Myers
Chiropractic Physician

Chiropractic Associates is group of quality Chiropractic Physician's who strive to provide Muskingum Counties highest quality Chiropractic Care. By Continually attending additional education events, and serving the Muskingum County and Chiropractic Communities.

Dr. Myers is a 1996 graduate of Palmer College of Chiropractic, he completed his undergraduate degree at The Ohio State University with a Bachelor of Science degree. Dr. Myers is a proud native of Zanesville graduating from Zanesville High School in 1981.

He currently holds appointments as Vice President of the Ohio State Chiropractic Association, past involvement as an Alumni Adviser to Palmer College of Chiropractic, this group of Doctors is a select group of 22 Doctors of Chiropractic from around the world. Dr. Myers is a member of the American Chiropractic Association serving not only as a member but as an active participant as a member of the Governor's Advisory Committee, as well as the American Chiropractic Association Insurance Liaison for the state of Ohio. Dr. Myers is involved in the community as a past member of the Board of Directors for Goodwill Industries, The American Red Cross, The United Way, and Children's Hospital Foundation Board

Dr. Myers holds post graduate certifications in Manipulation Under Anesthesia, Pettibon Spinal Biomechanics, and is a Certified Chiropractic Insurance Consultant. He also has special interest in Sports Chiropractic, Rehabilitation, and Physiotherapy.

Dr. Myers is involved in youth sports as both a father and a coach, and when some free times comes about enjoy's playing ice hockey, golf, and cycling.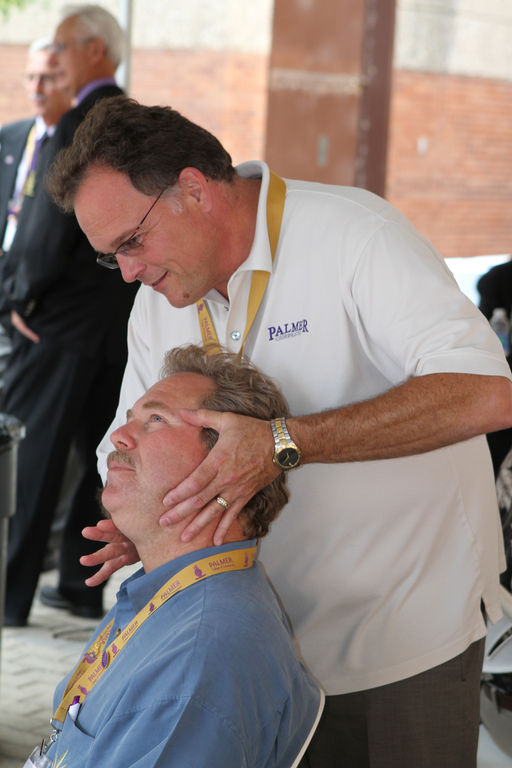 Dr.Myers adjusting at the 2011 Palmer Homecoming,
Davenport IA.